Jewelry Made Sustainable, Not Fast. by Kara Armstrong of The Conscious Merchant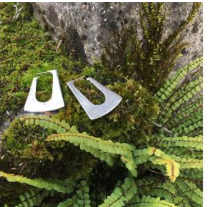 The following interview comes hot off the blog "Conscious Considerations" from our friends at The Conscious Merchant.  They're a brand working to guide us towards safer eco-living without judgment pr pre-tense. So worth your attention, follow the Conscious Merchant on Instagram, I know you will find lots of value there. 

Slowing Down Fast Fashion: A Jewelry Edition with Dante Perozzi
I don't know about you, but when someone says the words, "Valentine's Day" three things come to mind: jewelry, flowers, and Hallmark's logo. Three things that have plenty of room to become more sustainable. That is why we took the opportunity to meet with our friend and collaborator, Dante Perozzi, to talk about sustainability in jewelry, and why she works with metal.



Kara: Fast fashion is a regular conversation that I have with friends. Would you consider jewelry part of fast fashion?

Dante: Absolutely, jewelry is definitely part of fast fashion culture. While cheap and "fun", much of fast jewelry is made of plastics that have no place to go when our culture has moved on from the trend.

Kara: That's why I love your work! Can you tell us a little bit about it?

Dante: Sure, if you know my brand, then you know that I work in a variety of metals. Silver, brass & gold, but brass & silver make up the majority of my production. Every scrap of metal that remains after fabricating a piece is kept & saved. Sometimes, I can re-use the scraps directly into a new design. Anything else is sent out to my suppliers to recycle it back into the metals market.

Kara: Metal is one of those materials that is ideal for a circular waste system, and it can be recycled over and over again. Does that play a part in your work?

Dante: One of my favorite things about working in metal is that it is so forgiving. I realize that this may sound surprising to many but if you think about it, no matter what changes we make to metal- be it cuts, hammer hits, or hot flames- in the end, if the piece created isn't successful it can be melted down and reused. We can try again fairly guilt-free with the same material. Unlike a resin pour or a slab of alabaster, my materials give me a bit more freedom to make mistakes without worrying about waste. It also allows me to be more willing to take risks in my designs and be more comfortable with the potential & inevitability of failure.

Kara: SO COOL! I hadn't even thought about the freedom of creativity that comes with metal. What other ways is your work more sustainable?

Dante: Production, girl! When it comes to my cast pieces, I don't have the equipment for large-scale casting in my studio so I send my wax designs out. I absolutely love the casters I work with for many reasons but the one most relevant to this topic is the way that they source our materials. Each week they go to the scrapyard to purchase old copper wires and pipes and whatever copper is available and return with it to their shop. Since brass is an alloy of copper and zinc they can repurpose the once-junk into beautiful shiny sustainable cast brass jewelry. Silver and gold also is reused!

Kara: Amazing, I love my pieces from you and all this information makes me even more excited. I did the math and really, the timeless pieces I get from you feel like a deal.
Dante: Thank you, I'm always striving to be a brand that is worth its value and empowers women to feel their very best.

We're so honored to be partnering with Dante Perozzi Jewelry regularly in our stores. Join us for her next Pop up for Valentine's Day this Saturday, February 6th, from 11 - 4 at Free Market. If you are interested in reading more or being inspired and empowered by this artist, please go check out her website and IG.