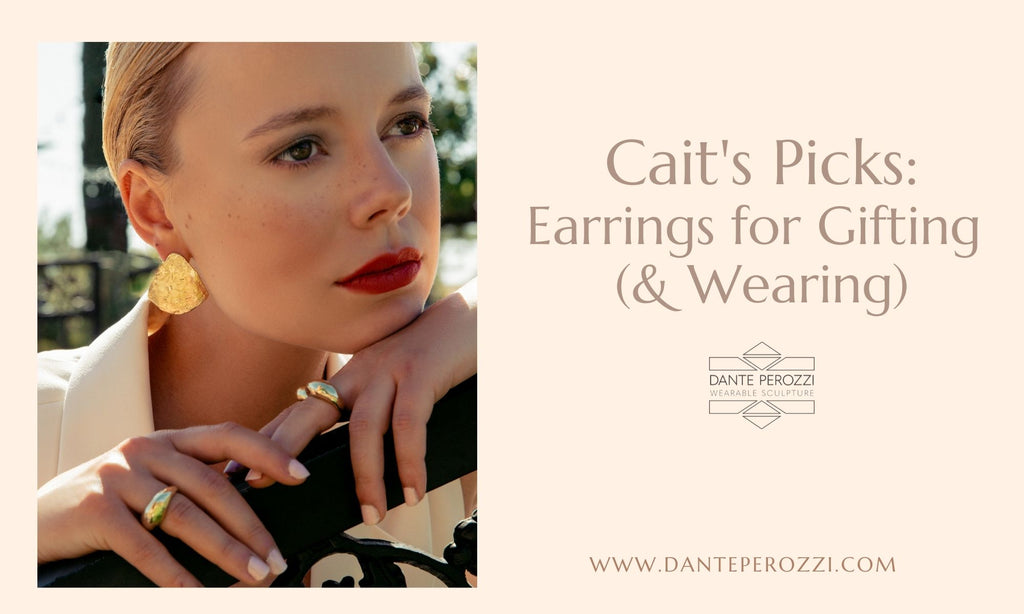 Hi there! Dante's assistant, Cait, here! I may have met you at a show, wrapped a DPJ box with our signature dried flowers and shipped it to you, oreven had a hand in making one of your favorite DPJ pieces. If we haven't crossed paths - HELLO and I am glad our paths are crossing now.
Earlier this year, I walked into Studio Colfax, an enchanting store in Denver that sells all my favorite things - art, plants, and, most importantly (to me, at least), jewelry. It was there that I first came in contact with Dante's jewelry. And after standing in silence in Studio Colfax staring in absolute awe at the Slice Studs for a potentially awkward amount of time, I knew I had to do everything in my power to work for Dante. Since the day I first saw Dante's jewelry, I have been fortunate enough to spend quite a bit more time around her beautiful earrings, necklaces, rings and arm candy. Even more fortunately, I have been able to wear those pieces proudly and feel the power each piece packs - and with that - have become familiar with the way her jewelry make the wearer feel... beautiful, confident and prepared for anything the world has to throw at them that day
An earring lover through and through, my all time favorite DPJ pieces are as follows:

2. EOS Hoops (happy hour with my gal pals... le duh!),
4. Bolt Threader Earrings (everyday threader good with a T-Shirt and jeans OR my favorite booties and black dress... yes pls),
5. Last, but ABSOLUTELY not least, the earring that introduced me to Dante and her jewelry, the classic Slice Studs (perfect for any moment, any place, any outfit. Trust me.)
P.S. If you aren't a ride or die earring lover like me, check out the cuffs from DPJ's newest collection, Fortuna. The first time I saw them I got chills... take that as you will, but I have a feeling they will do the same to you! 
Continue reading