An Artful Duo: Victoria Lora & Jamie Cernich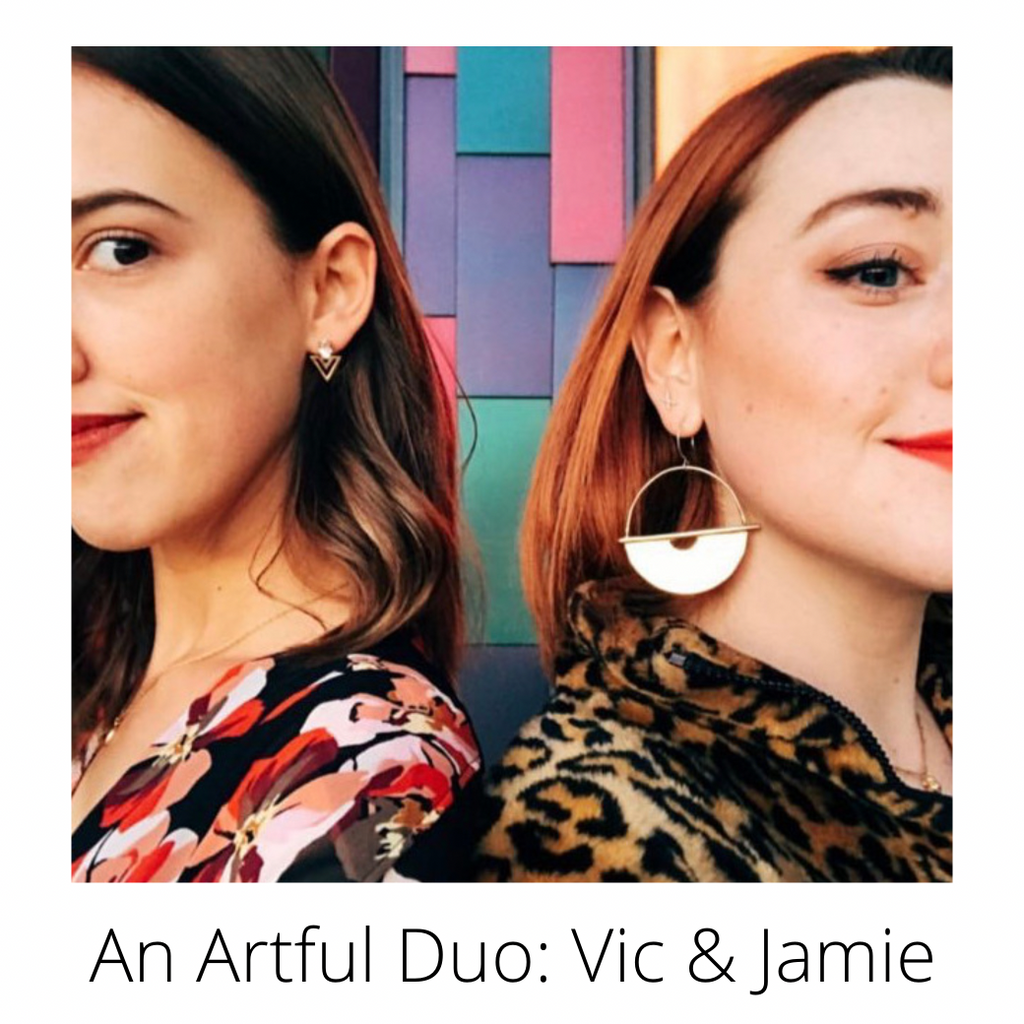 This photo is pretty stunning yes? It's one of my faves from the current look book. But I could never have made these images happen without two individuals who have long been a source of inspiration and creative energy at the studio. I have wanted to introduce you to these women for some time and I am so happy to finally bring you a part of their story. But first, a little background....
DPJ was born in sunny Southern California. I think it was 2017 and in LA, I had just begun to see some real growth after incredible amounts of effort. That tiny bit of success there seemed doomed to flutter out because my husband and I had decided to move our family to Colorado. I had no idea what Colorado was going to think about my work. I was scared that I was going to have to start over. That was where my head was at less than a week before moving away from California. And as if on queue- I received this timely message on instagram: 
"Hey!  I stumbled upon your jewelry and I LOVE your designs.  I style for my friend who is a photographer and I would love to use some of your earrings in a shoot we have coming up!  Do you ever collaborate or lend out your stuff for shoots?  We would love to showcase your awesome designs :)"
That message turned out to be from Jamie Cernich on behalf of herself and Victoria Lora, her bestie and photographer. After receiving it I may or may not have stalked their instagram accounts. Pretty much instantly I said, Let's do it! I wasn't even able to meet them in person. But I left them the jewels, and I left my life in LA.
Here's a shot that came from that very first shoot: 
I sat down recently to chat with Jamie and Victoria.
Dante: What led you to begin working as a team on shoots?
Jamie: We went to college together and we were both in the same tight-knit film program. The way this program was designed, we didn't get summers off - we had classes all year long. But the summer workload was a little light and we found ourselves with plenty of free time to kill and one night, instead of watching Orphan Black with popcorn and wine for the thousandth time, we were itching to do something creative. Victoria had just gotten a new camera, and we found some makeup reference on Pinterest and I threw together a look. We used the lights we had - a light-up makeup mirror and a laptop propped up on couch cushions, and just goofed around trying to be ~fashion~. We were convinced our two other roommates were going to come home and find us in the living room in the dark and wonder what the heck we were doing. We did a few more college apartment shoots, but once we got to LA we realized how much fun we had shooting together on the weekends. It was a way to stay creative and hands-on and meet really interesting new people. And we've found time to keep it going, despite our individually busy work schedules in the film industry.
Dante: That sound's so fun, and slightly exhausting! You've racked up a lot of shoots since then. Which ones are you most proud of? Or is there a memorable story about one you would like to share?
Jamie: We've done so many fun shoots, but we did a 12-part series with our friend Taylor Mikiska centered around the zodiac signs that comes to mind first for me.  A lot of our shoots are very much just me and Victoria coming up with an idea and a look from scratch.  But Taylor came to the table with her own vision and moodboards and was such a great collaborator.  I personally love to look at each of those shoots (which we did over the course of a year) and marvel at how completely different Taylor looks and feels in each.  She and Vic did a great job capturing the essence of each sign in an approachable way.  And selfishly I loved getting to play with so many different makeup styles on the same person. 
Dante: LOVE it! What about you Victoria? 
Vic: It's so hard to choose just one favorite! This shoot in particular was a fun challenge-- a few years ago our friend Kamri asked us to take photos of her riding a horse in a long flowing dress. Of course we said yes! Jamie came over and she did Kamri's hair and makeup before the two of us left for the shoot. The horses were HUGE, like I guess I forgot how big horses are. It was intimidating at first but once we found a rhythm, it became really magical. The horses kept moving around so it was difficult to find the right background, so I ended up just shooting up towards the sky. The sun even went down a bit and the clouds looked very stormy. We captured some really amazing shots that evening and Kamri looked gorgeous. Somehow after that I've done maybe 3-4 horse shoots, I don't know how it keeps happening! 
Dante: Ah! I have some of those photos from that shoot with Kamri. You guys styled her in Dante Perozzi Jewelry with that white dress. The photos definitely looked natural and effortless and I LOVE them. I also love hearing the back story!
So, I've always wondered what made you guys reach out to me a few years back? 
Jamie: When we first moved out to LA, we were making very little money.  And we were enjoying shooting on the weekends, but found our budget was limiting our creative vision.  Absolutely no shade to Forever 21, but their jewelry selection wasn't always the vibe we were going for.  So we decided we might be able to collaborate with local small businesses that needed pictures of their work, and we could in turn elevate our shoots with pieces that were unique and designed with care.  You were the very person we found on Instagram and reached out to - and somehow it worked out better than we could have anticipated. 
Dante: It really is amazing to me the partnership that came out of that little DM!
But, looking ahead now, do you plan to grow the photography and styling as a business or creative endeavor?
Jamie: We've talked about this a lot.  Never say never, but there's something to be said about keeping your passions and hobbies separate from the day-to-day grind of a full-time job.  At the moment, we both enjoy using photography and makeup as an escape.  We worry if we rely on it as our main source of income, it will take some of the fun out of it.  But we're always looking to push ourselves creatively to try new ideas and take more risks.
Dante: I completely respect and get that. But for the record, I sure am glad you aren't opposed to side jobs ;)
So with that in mind, do you want to invite people who read this to be able to contact you and potentially gain new partners/clients?
Jamie: Absolutely! We love to get inspired by what others create. We've found the relationships we've formed with our collaborators and models has been so valuable. Your readers can reach out to Vic via Instagram (@victakemypic) or email vmcragg@gmail.com. You can reach out to me (Jamie) via Instagram (@jcern) or email jamiecernich@yahoo.com.
Dante: Ah! Thank you SO much for chatting with me. And I'm so glad we FINALLY got to meet each other in person this year! 
/END
Reflecting back as I have been typing this out this has me marveling at the impact that the simple act of handing off some my jewelry for a seemingly random shoot with strangers had on my business- and on me. That very first shoot turned out to be a wonderful bridge for me professionally. The resulting images just inspired and carried me through a very uncertain period. No small thing!

Please do yourselves a favor and check out thier profiles. You can also view the current wbe version of our Look Book for more of our collaborations.