Shopping Small for the Best Kind of Ending for 2020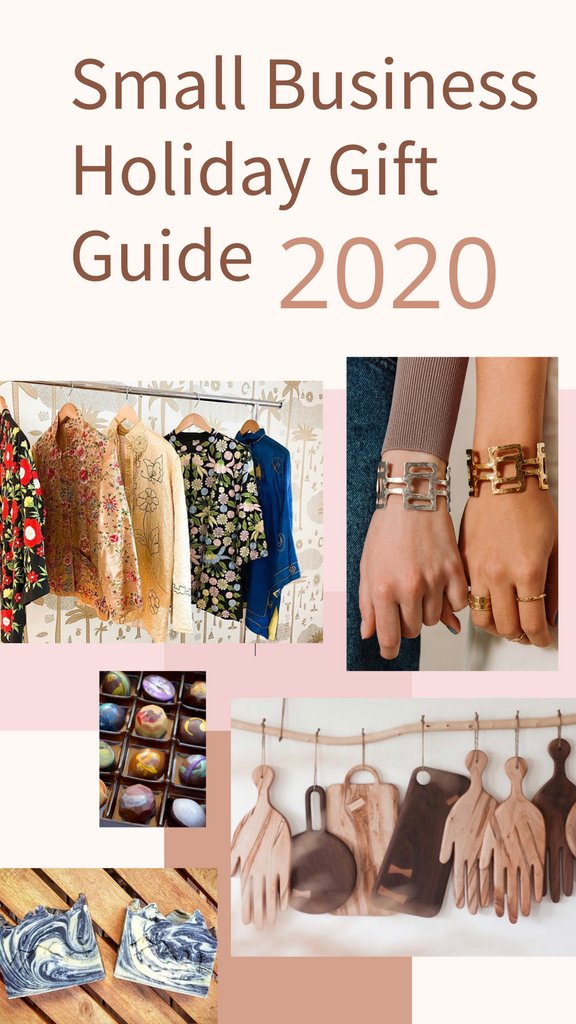 Small Biz Gift Guide for 2020
Make your dollars count for a member of your own community
I have compiled a list here of makers I know. These people work so hard pouring their hearts and blood sweat and tears in to creating what I am sure you will agree are imbued with the passion and dedication only artisans and creative entrepreneurs can deliver.   The fact is, that small business owners are dedicated, driven, BAD-ASSES, and they deserve to be seen and supported. They also deserve to keep their place in the market, a place that is becoming increasingly smaller and smaller, as so many small businesses bite the dust.
Here is why you should shop small, not prime:
When you shop small, you are directly supporting families and individuals like these who work SO hard to give you a quality product that is unique, crafted with love and attention, and that doesn't come from a cold factory on the other side of the world or benefit the pockets of some corporation.
My plea to you all this year: This holiday season, when you spend your money, spend it in your own communities. If people would make the conscious choice to buy independent and not at big box stores/sites this year, we could make it so that 2020 has the best kind of ending— where businesses stay alive and gain momentum, thanks to YOU, their communities.  
Let's help small businesses kick what's left of 2020 in the ass. Let's all shop-small and help the little guys finish strong!  
Whitney's work is both functional and absolutely gorgeous. I am personally eye-balling her hand carved charcuterie boards for myself errr, I mean for gifting!
The walls of my own home are graced with multiple prints by Noelle and I never grow weary of looking at them. I've given some of her small prints as gifts and this year I am looking at her 2021 calendar for some gifting I need to do.
Look to these guys for your wallets and bags and they also have some very cool brass and leather unisex bracelets I want for myself- if you are reading this Santa...
I can tell you first hand that this jewelry is whimsical, witty, carefree and delightful! I am the proud owner of two of Niki's necklaces and my husband has some cuff links. All of Niki's work makes for a wonderful gift to be cherished by anyone lucky enough to receive one for their very own.
I have personally witnessed the growth of Planting Hope LA from humble beginnings to present and I have been in awe of her ingenuity, determination and generosity. She is helping make the world a better place from her inspirational social posts, to her housewarming products and of course improving the lives of homeless boys in Haiti. I have two of her propagation stations and I get complimented on them by every visitor in my home.
I'm quite pleased with the Bee-och purchases I have made and so admire the amazing business Brooke has grown. Grab yourself some face oil, lip balms and CBD rubs. Stockings stuffed. You are welcome.


What can I say? I have a sweet tooth and I have eaten quite a bit of the product line these guys have on offer. The bon bon sets are delish and each one is beautifully hand-painted making them a no brainer for hostess gifts! Nom nom nom.
Jake of Two Ravens has especially amazing soaps that are both lovely to look at and filled with transporting scents. Grab a few bars and may I suggest the Grapefruit body scrub....gifting mission accomplished. 
Megan is super generous in offering regular tips and advice from her social media accounts. She also has a wonderfully inspiring personal story. What a unique and totally awesome gift to give the fashion forward woman in your life. I certainly welcome any and all styling tips from a girl who has styled the stars!
If you know me, you know I have a weakness for the finer things, fancy foods and I like to indulge in luxury goods when I can. Reading the ingredients on Alyssa's candle description has literally got me salivating- and they burn for 65 hours!!! If you give one of these for a gift this year, no one is going to be mad about it.
_______
I find myself constantly checking the listings in this shop because these girls are always coming up with the most gorgeous unique pieces. Go check out their stash!
I have some beautiful custom pillows from Olive & Oldes that are the perfect balance of firm and comfortable. They also make my living room look like a magazine. Megan and Dylan are known for their Zafu's- those are where it's at for holiday gifts, trust me and go see for yourself.
This company run and founded by Kara Armstrong is doing more than its part to make it easy for the rest of us to be better citizens of the earth. They are always offering up demonstrations and useful information freely. They definitely deserve our business  If I were to choose my own gift from The Conscious Merchant it would be their Eco friendly Kitchen Starter Ket and their rose gold safety razor. Can some one please write this down???
I have a medium sized pack from K. Wilson and it is amazingly well made and has a sturdy wood base...but also it is so gorgeous that when I'm not using it it hangs prominently on my living room wall.
Well this is me- Dante Perozzi of Dante Perozzi Jewelry. I make my pieces with love and intention and in the spirit of the sculptor I am. I try to have something here for everyone to love that makes them feel beautiful and empowered.  Please ask if you need help finding the right gift. Really that's my favorite part of the job.....talking with all of you and helping you hne in on the perfect piece. I think since you are already here on my website, maybe go and have a look around! Let me know what you think.
FACTS
Nearly half of our workforce either owns or works for a small business, and small businesses create two out of every three net new jobs in the private sector, according to the U.S. Small Business Administration. All over America, neighborhoods and families depend on the success of small businesses. By shopping at small businesses, you're ensuring that your money will go back into the community and support jobs for your neighbors and friends, which makes the holidays brighter for more than just the people you've got on your shopping list. Even if you only buy one thing for one person, if you spend your hard-earned dollars with a small business, you're helping.
Whatever you do with this information...I hope that I have introduced you to some new small businesses you can happily support. It's easy! Just FOLLOW, SHARE, SAVE, AND SHOP!
Thanks All! 
Warm Wishes for everyone in these last months of 2020. Let's all do our best to finish strong :)
Dante Marie Perozzi
Please be sure to sign up for our email list or follow us on Instagram to stay in the know!