2020 Small Business Goddess Gift Bundles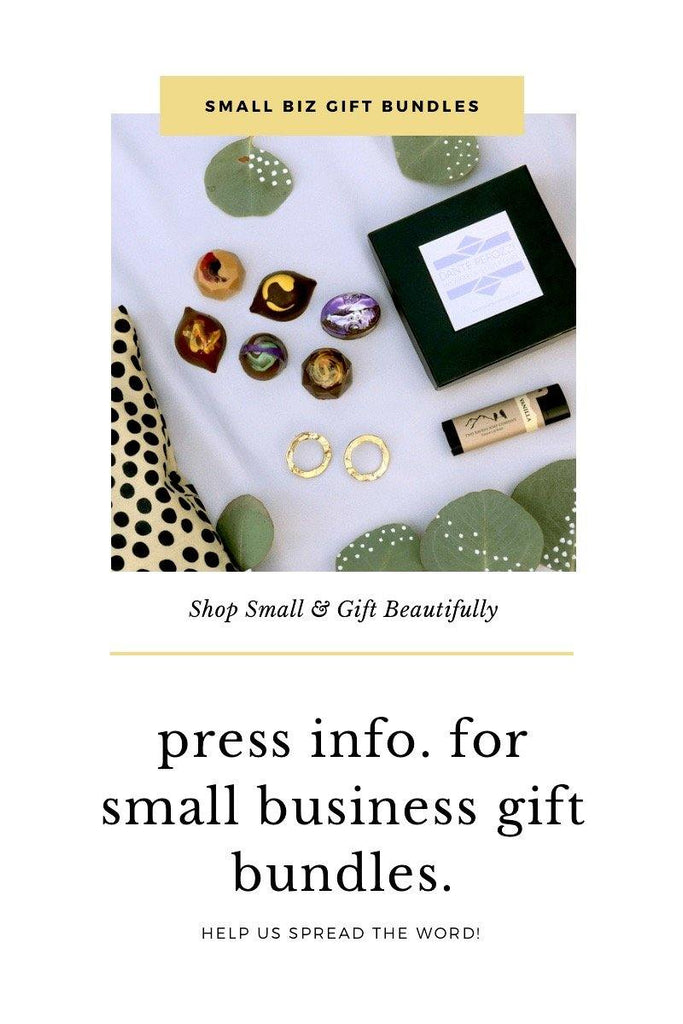 FOR IMMEDIATE RELEASE:
Denver-Area Small Businesses Band Together this Holiday Season
Denver, Colo. — Dante Perozzi Jewelry has joined forces with other small businesses in the Denver area to present the 2020 Small Business Holiday Gift Bundles for the upcoming holiday season. 2020 has been a year like no other, and small businesses have been hit hard. This holiday season is an opportunity for communities to support their neighbors, friends, and family by making the choice to "shop small" this holiday season. 
When you shop small, you are directly supporting families and individuals who work so hard to give you a quality product that is unique, crafted with love and attention, and that doesn't come from a cold factory on the other side of the world or benefit the pockets of some corporation. Small business owners are dedicated people just like you, and they deserve to be seen and supported. They also deserve to keep their place in the market, a place that is becoming increasingly smaller and smaller, as so many small businesses are forced to close due to this dire economy. 
Nearly half of our workforce either owns or works for a small business, and small businesses create two out of every three net new jobs in the private sector, according to the U.S. Small Business Administration. All over America, neighborhoods and families depend on the success of small businesses. By shopping at small businesses, you're ensuring that your money will go back into your community and support jobs for your neighbors and friends, which makes the holidays brighter for more than just the people you've got on your shopping list. Even if you only buy one thing for one person, if you spend your hard-earned dollars with a small business, you're helping.
Small business owners can support one another too. Dante Perozzi Jewelry wants to help other local Denver small businesses, and this holiday season has partnered with a handful of other small businesses to create gift bundles that benefit everybody, and at affordable rates! 
 The Aphrodite Bundle features the Swing Dangles by Dante Perozzi and Self & Care products from Two Ravens Soap Co. and Olive & Oldes. Sale goes live on Nov. 1st 2020. Sign up for our mailing list to get notified.
Dante Perozzi Jewelry has partnered with small businesses like m2 Confections, an artisan chocolate and candy producer based in Denver; Olive & Olde's, a home goods company run by a husband and wife team out of Denver; and, Two Ravens Soap Co., a handmade soap and body care company out of Littleton.
DPJ Small Business Holiday Gift Bundle Menu:
*all bundles are beautifully packaged along with a handwritten card.
*all items are handmade and so may vary slightly in appearance (specifically the chocolates). 
*soaps scents may vary based on availability.
*bundles will be sold in a pre-sale.
*sale goes live Nov. 1, 2020.
*last day to order for US Domestic Shipping is December 6, 2020.
*Denver area local pick up (free) and delivery ($5 fee) will be offered.
Package

Photo

Items

Price

The Hera (P1A)

 

2 bars of handmade artisanal soaps -Two Ravens Soap Co.

6-piece hand-painted artisan Bonbon set - m2 Confections

Grapefruit Rose Body Scrub - Two Ravens Soap Co.

Mixed-Metal Temple Dangles - Dante Perozzi Jewelry 

 

 

$150

The Salus (P1B)

 

2 bars of handmade artisanal soaps from Two Ravens Soap Co.

6-piece hand painted artisan Bonbon set - m2 Confections

Grapefruit Rose Body Scrub - Two Ravens Soap Co.

Brass Salus Cuff - Dante Perozzi Jewelry 

$145

The Rhea (P2A)

 

Lavender Eye Pillow - Olive & Olde's

Goddess Stud Earrings - Dante Perozzi Jewelry

Vanilla Lip Balm - Two Ravens Soap Co.

 

 

$65

The Rhea Plus (P2)

 

Lavender Eye Pillow - Olive & Olde's

Goddess Stud Earrings - Dante Perozzi Jewelry

Vanilla Lip Balm - Two Ravens Soap Co.

6-piece Bonbon Set - m2 Confections

 

$80

The Aphrodite (P3)

 

2 bars of handmade artisanal soaps from Two Ravens Soap Co.

Grapefruit Rose Body Scrub - Two Ravens Soap Co.

Lavender Eye Pillow - Olive & Olde's

Swing Dangle Earrings - Dante Perozzi Jewelry 

Brass 

*Optional Upgrade Mixed Metal (sterling silver & brass)

 

$105 / $130

The Nyx (P4)

 

Hot Cocoa + Handmade Marshmallows  - m2 Confections

Lavender eye pillow - Olive & Olde's

Perfectly Imperfect Square 18" pendant – Dante Perozzi Jewelry (sterling silver or brass on gold filled chain)

$75/$94

The Artemis (P5)

 

12-piece handmade hand painted Bonbon Set

Cupola Necklace - Dante Perozzi Jewelry

 

$188
Media Contact:
Dante Perozzi
(310) 254-5186