Hoop-Lah: 6 Different Hoop Earrings We All Need This Year!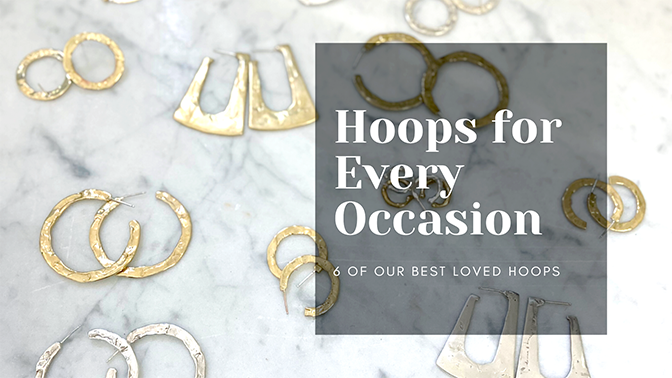 Whether you are rushing out the door in jeans and a tee, stepping out for a cocktail  or donning a freshly pressed blazer with heels and headed into the office there's one accessory that ties an outfit together like nothing else we can think of, namely, hoop earrings. Hoops always win because they're just universally flattering and functionally the most versatile style of earring. 
Here's a rundown of our 6 FAVE HOOPS and why we love them.
Nyx Hoops - Nyx Hoops are our most traditional style of Hoops. They come in both 1" & 2" diameter. These truly can go anywhere you need them to go. Packed in your vacation bags or worn into the office. Simple forms with a subtle hand sculpted texture make these pretties a complete crowd pleaser.
Athena Hoops - Named for the Athenian goddess because of the Majestic touch these add to any ensemble. These add a sense of boldness Athena hoops are polished to a mirror shine so they reflect the light with each movement. Definitely one of our most eye- catching pair of hoops. And the super reflective finish is tres riche!
Em Hugs - The newest addition to the DPJ hoop family are perfect for those of us who love the little things. These minimal tiny hoops have a fluid organic form combined with a high polish. Wear them anytime, anywhere. Fine to wear while being active or cuddling around grabby little baby fingers. These also work beautifully in a second piercing.
EOS Hoops - These are my personal faves. I like to say, if I had to choose one pair of earrings to live with for the rest of my life it would be the EOS hoops. I love everything about them, even the name after the Titan Goddess of the Dawn, EOS. Radiant and shining like we want you to always feel. These are a different take on hoops and you will never want to take them off.
Amphi Hoops - We created these at the request of some of our best clients who love a good statement earring like our EOS hoops but wanted threaders instead of posts as the functionality of the earring. With a high polish finish over an undulating organic surface these beauties are easy to wear and classy AF. 
Goddess Hoops-  Okay so these are technically studs but they have the feel of hoops with a twist! These symbolize so much in their simple textured radiance. These are one of our most popular earrings to gift as they are simple and easy to love but slightly different than what you might expect from a hoop.
No matter which is your go-to style of pairs of hoops options in your wardrobe this year!